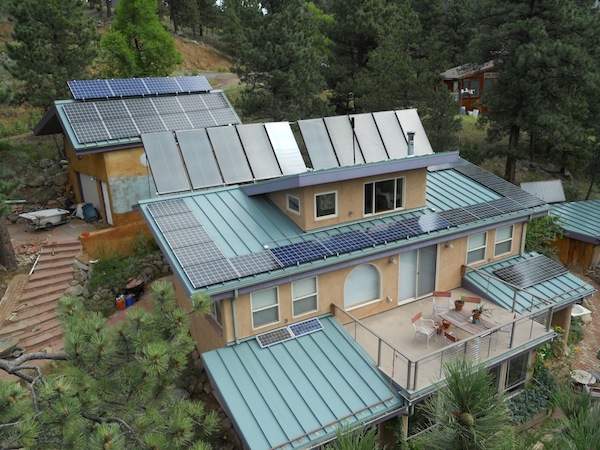 'Seeking seriously eco-conscious individuals or couple to share a very unique home & lifestyle.
'Urge you to read this entire post before responding. Hello, i'm Karl, an IT-guy, working a 1/2-time gig with the University since June of '18. 'Been around Boulder for a long while. You can snoop my Projects page, to learn more about what i'm into, if you like.

The home is technically not "off-the-grid" but folks seem to often describe it that way, and it does have similar characteristics. We're located in a beautiful, peaceful, sunward-facing canyon setting off the base of Lee Hill in NW Boulder, barely into the foothills. It employs passive and active solar thermal. A grid-tied solar PV-electric system (w/ battery backup) that produces a net supply to the grid. Rooftop water harvesting system. Composting toilet. And a greywater recycling system. The house is a partial straw bale structure. Has a loft for guests. Spacious deck area. Wonderful views. Terraced garden beds. "Multi-species" bird coop (fresh eggs!). Detached sleeping "Shedroom". A solarium/greenhouse is in the works, and more coldframes are in the cards too. 'All employing permaculture practices. Excellent broadband internet with WiFi. Some limited storage space. Lot's of photos here.

The home tends to be warm & comfortable in the winter, rather than marginally or wholly cold &/or exorbitantly expensive* like you can probably otherwise expect elsewhere. Likewise, tends to be cool & comfortable in the summer, with "passive AC".
* Of course that situation is only going to get worse, moving forward. Running with just 3 humans in this domicile, would be most prudent.
'Seek gender balance in the home, as well as maturity. Strongly preferring car-free soul(s) since routine motoring is unsustainable and your car-free status would unambiguously indicate your commitment, which may otherwise be difficult to gauge in advance. 'Would also like to avoid having the place look like a parking lot by having multiple cars sitting around.
A cooperative solar-electric car-sharing option is negotiable (TBD).
Close enough to town & a mellow grade make it entirely bike commutable! It's 1.75 miles to the intersection of Broadway & Lee Hill, in NW Boulder where the Skip & 204 bus routes originate. Fairly easy hitching / car-pooling to-n-fro. However, most find cycling to be the most efficient way to come & go.
If you're not already well-practiced at getting around w/o driving, it probably wouldn't work-out for you.
If you think you need a car as a matter of routine, we can talk about options, but the main one will always be, "'Best to find something else". Pets?... we have some already that provide eggs, abundant entertainment, fertilizer, & need to roam freely w/o fear of fangs, etc.. While we'd love a feline, they just do not work in this house. A well behaved & pleasant dog is ever-so-slightly possible, but an additional expense. There are other considerations too. 'Not able to share the home with smokers: Not just "smoking", but smokers & those smells that linger.
Also not able to share the home with stoners. Occasional users, that's fine, but constant stoners?... nah. What we're looking for is engaged participation in sustainable & cooperative living, and not merely renting a room. We do a CSA share with a local farm. Looking to share groceries, meals, knowledge, insights, discoveries, stories, music, typical chores, atypical chores, & projects.
While we're talking about chores, understand that they're not trivial, and are non-optional ... we shall endeavour to share the domestic workload ~equitably. Rent could be as little as $500 for an individual. Utilities are included.
With just one housemate, i propose to charge $150 more, until such time as a 2nd (or really, 3rd, considering myself) housemate is procured. Who knows... maybe just two humans is workable for the longer-term, with occasional short-term guests. 'Trying to make the best of my investment here.
There's also the CSA share & eggs / bird-feed to negotiate. Some significant but limited opportunities for work-trade depending on a variety of factors. One definitely shouldn't count on it to make the monthly rent ...way too many variables. Availability is ~flexible.
We sometimes do some short-term rentals via Craig's "Vacation Rentals" and "Sublets" & "Temporary" sections, as well as AirBnB. 'Helps fill the void until the right long-term housemate(s) come along. While visiting that page, please also find & review the House Instructions, Rules, & Conventions PDF doc' referenced there.
We're patient & determined. Please don't try to rush us into some sort of quick decision. I've found it best that prospective housemates come in on a "prospective basis" for the first couple of weeks, and moreover pay an up-charge (short-termer rates) that's refunded incrementally over the next 6 months, but otherwise partially forfeited if you don't stay that long.
Renters are expected to sign a written agreement & pay those first two weeks, plus the deposit ($500) in advance. 'Appreciate sincere inquiries from folks who're looking for just this sort of situation.
When you write, please include enough pertinent info about yourself so that we can readily distinguish you from 'bots, else we simply will not respond. Thanks. Please write to:


The '+' is literal. 'Looking forward to meeting you... you're rare!